Immersion in the primary forest
Lokobe is the last primary forest of Nosy Be, with its numerous medicinal and endemically plants and its millennium trees. Protected area.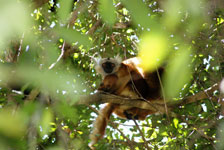 This forest which attracts every year many scientists will lead you into the very inside of a tropical forest. Like an initiatory ritual, let you guide into this well preserved universe, looking for nocturnal and diurnal lemurs (Macaco and Lepilemurs), reptile, chameleons, insects, and tropical birds.
Land transfer until the fishermen's village of Ambatozavavy in the south of the island, from where you'll embark on a traditional boat rowing along the mangrove swamp up to the reserve.
Here we are! Your guide (specialist of the fauna and flora of Madagascar) invites you to discover the lively treasures of his reserve and will deliver you with friendliness its secret and its legends.