The island of lemurs and the submarine reserve
First stop: Nosy Komba is the 2nd biggest island behind Nosy Be. Visit of the Lemurs Park, the fishermen's village with its traditional boat.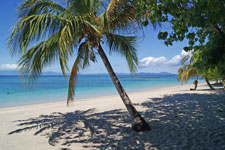 We will also see the table clothes market, then through the village for a moment of shopping with the famous sculpture of Nosy Komba, its colorful stalls and its smiling faces.
Second stop: Nosy Tanikely is a protected submarine natural reserve. Snorkelling equipment is all you need to dive into a real life size of aquarium. A few steps from the beach, you can see all kinds of corals, anemones, multi colored fishes, shellfish, and if you are lucky you'll see turtles.
Bathing, strolling to the lighthouse in order to see giant bats and lemurs, lizards, chameleons and butterflies.